Sponsor's & Exhibitor's Guide for the GCSG 2019 US Conference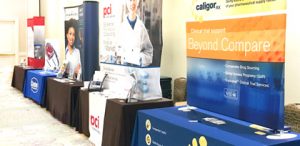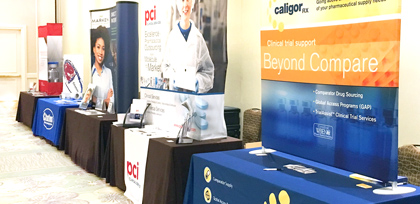 Some quick guidance for sponsors and exhibitors; please refer to the links below for full information:
Vendor Assignments: Sponsorships and Exhibitor Tabletops will be reserved on a first paid, first served basis.
All exhibit materials must fit completely on the tabletop provided (approximately 2′ X 6' for full tabletops and 2′ by 3′ for half tabletops).
No exhibit materials are allowed on the floor in the exhibit area.
Exhibitors will only be allowed to install tabletop displays (maximum height is 5′ from the top of the table).
Only one tabletop per company (including subsidiaries or sister companies) is permitted.  A company is defined by the highest level of the organization regardless of brand differentiation within the overall organization.
Sponsor and Exhibitor personnel must wear their registration badges at all times.
Please Note:

VENDOR companies (sponsoring exhibitors and non-sponsoring exhibitors) are permitted to register up to two (2) Business Development/Sales delegates only (not counting Speaker or Committee members (rules apply)).  Allowable Business Development/Sales delegates are specific to sponsorship or tabletop size purchased – reference Sponsorship and Exhibitor Agreements for details.
Additional delegates that are operational based are permissible.