Sponsor's and Exhibitor's Guide for the GCSG 2020 European Knowledge Forum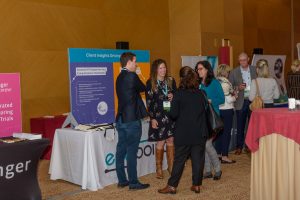 GCSG is excited to announce a variety of sponsorship opportunities as well as 30 exhibit tabletops to meet growing demand for this MUST ATTEND industry event in Europe. This year's European Knowledge Forum will be held at the Radisson Blu Hotel and we have an amazing event space for our exhibitors, centrally located adjacent to meal seating areas and the food buffets, making the exhibits easily accessible to all attendees!
With the purchase of any of the sponsorships being offered, you will also be eligible to purchase a tabletop exhibit. Use this option to be first in line and guarantee your company an exhibit space! The remainder of the tabletop exhibit spaces and all Member and Contributing level sponsorships will become available on a first-come basis at a later date. At this time, companies will be able to buy a tabletop, a sponsorship or both from the remaining inventory.
Below are links to information for exhibitors and sponsors:
Sponsorship Opportunities
For guidance on conference logistics; please refer to the links below (information coming soon):
Vendor Room Layout
Exhibitor Table Numbers
Shipping and Handling Information