Exhibitor's Guide for the 2017 European Global Clinical Supplies Group Knowledge Forum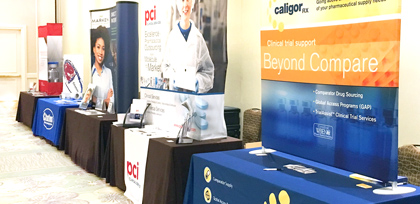 Some quick guidance for exhibitors; please refer to the links below for full info:
Space Assignment: Exhibitor space will be reserved on a first paid, first served basis.
All exhibit materials must fit completely on the table-top provide (approximately 180x 60cm in size).
Only one display per company per table is permitted.
Exhibitors will only be allowed to install table-top displays (maximum height approximately 160cm from the top of the table.
Exhibitor personnel must wear their registration badges at all times.
Please Note:

Exhibiting VENDOR companies are permitted to register 2 Business Development/Sales delegates only.
Additional delegates that are operational based are permissible.
Premium Sponsorships for Exhibitors / Table Tops
Rate
Diamond Sponsor - Wednesday Night Event

$7,500
Platinum Sponsor - Tuesday Night Meet & Greet Event

Sold Out
$6,500
Gold Sponsor - Keynote Speaker Session Sponsor

$5,000
Silver Sponsor - Lunch | 2 opportunities available

$3,000
Bronze Sponsor - Tea/Coffee/Snacks | 2 opportunities available

$2,500
NEW!! - Boot Camp Sponsor

$2,500
Exhibitor Tabletops

| 20 opportunities available

$6,500
Other Sponsorship available- check link below for info
Various