Sponsor's and Exhibitor's Guide for the GCSG 2021 AsiaPac Knowledge Consortium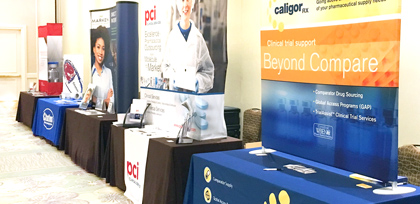 GCSG is excited to announce it's very first Asia-Pacific Consortium with new sponsorship opportunities and exhibit tabletops for this NEW industry event.
For many years we have been hosting interactive and engaging conferences in the US and Europe. Conferences with a difference – attendees engage in interactive workshops and presentations on a range of clinical supply subjects and hot topics, in a relaxed, educational and collaborative environment, all underpinned by a spirit of inclusive peer-to-peer networking. The Asia-Pacific Consortium will follow the same ethos.
With the purchase of any of these sponsorships being offered, you will also be eligible to purchase a tabletop exhibit. Use this option to be first in line and guarantee your company an exhibit space! The remainder of the tabletop exhibit spaces and all Member and Contributing level sponsorships will become available on a first-come basis at a later date. At this time, companies will be able to buy a tabletop, a sponsorship or both from the remaining inventory.